Gentlemen, the era of the cargo shorts at the beach is over. Women and fashion mavens of the world have spoken, and they've put you on blast. While you're still trying to pull off the battered half-pants and your ironic tee-shirt, everyone else is cringing. It makes you look like a sloppy postal worker or laid-back delivery guy. Certainly, there's nothing wrong with our civil servants or the fine people that bring our Amazon packages, but they aren't on the bleeding edge of haute couture. It's time to upgrade.
While board shorts are fine when you're taking a dip or sunning yourself, the rest of the summertime you should not be showing off your weird, skinny legs, but your sense of style and pragmatism. So that you aren't lost in the wild waters of the fad world, we've located the 15 best men's summer pants for wearing to the beach.
Fabrics To Find
Before we give you a rundown of exactly what to put on your better half, we'd like to help you choose the right fabrics. This way, you'll know in advance whether any pants you're eyeing will do the job. Here's the ideal fabric choices for summer trousers:
Linen: Simple, stylish, timeless. Linen breathes well and is fairly durable, meaning it won't rip to shreds easily, but will keep your bits nice and breezy
Linen Blend: Also excellent, this is usually a mix of linen and rayon or linen and cotton. They're softer, won't wrinkle as easily as straight linen, yet still give you all the billowy goodness.
Cotton/Polyester: Be careful here, since a bad blend will give you sweatpants, not a nice pair of summer loungers.
Cotton: Easy, breathable, and can be found in a multitude of styles, cotton is good so long as it is woven loosely. Weave it too tight and you end up with denim, which is not good for the beach. Try hunting for "gauze cotton" to save time.
Chambray: More common among dress pants, chambray is the classy fabric to replace your jeans. Find a relaxed cut pant or even a pair of long shorts, and you'll be golden.
Twill: Also a quality way to get a lighter set of pants that are closer to denim, yet have the laid-back shoreman style. Twill is a type of cotton that is denser and best left to the inbetweener months surrounding summer, when the cool air can come calling.
Must-Have Beach Pants for Guys
Happy Chef Cotton Baggy Chef Pants
Pack Mule: All cotton, these can be a little dense and a little dark for wear during scorching summer days, though ideal for ones with cloud cover. Since they're meant for work in piping hot kitchens, they breathe well, and provide loads of pocket space for lugging all your gear around. Purchase: $24
J.Crew Factory Sutton Lightweight Chino
Slender, Man: Skinny jean fans who want to get to the sandy shores should look no further. They're light as a white lie, come in eye-catching colors, and accent the narrow wearer nicely. Purchase: $30
John Blair Linen-Look Drawstring Slacks
Synthetic Styling: Breaking from the pack, these are rayon and polyester blended together. The price is low, the comfort is real, and the look is smoother than you get with anything from the linen or cotton family. Purchase: $30+
Dockers Alpha Khaki Slim-Tapered Lightweight Stretch Pants
Give a Little: Khakis are touch-and-go for beachwear, which is why we like that these have cotton and elastane. They bend and breathe for a deceptively light feel behind the classic slack look. Purchase: $20+
Cubavera Drawstring Pant with Elastic Waistband
Mixed Bag: A melding of linen and rayon, Cubavera provides all the comfort of linen without the hefty price tag. Easily machine washable, difficult to wrinkle, and offered in a massive range of colors, we suggest you try a pair and get ready to fall in love. Purchase: $32+
Havanera Co. Drawstring Pants
Unpretentious: As tough as you'll get out of any linen/rayon mixture at this price, these should just be issued to men when summer hits. They're your beach uniform; so suit up. Purchase: $35
5.11 Tactical #74273
Good to Go: We'd never forget about our urban commando brothers who need a tactical edge, even when catching some sun. Light enough for desert ops and pumped full of pockets, there's always space for all your EDC equipment along with 5.11's incomparable construction. Purchase: $35+
UA Relentless Warm-Up
Fancy Footwork: We're going to give you one set of workout pants that can pass as beachwear. Under Armour has enough street cred, and these pants look smooth enough that they won't completely wreck your look, but you'd better do a little jogging to earn them. Purchase: $40
Tommy Bahama Linen Drawstring Pants
Slim Down: Tommy Bahama has cornered the market on high-quality, 100% linen pants that look amazing. There's a more professional look to these beach pants than most, allowing you to head right into the cabana without a moment of self-consciousness. Purchase: $49
Perry Ellis Drawstring Pant
Softened Up: Here you see how a linen and cotton blend will offer greater softness and comfort along with a look that's yacht-deck ready. Guys with sensitive skin will find these help prevent any abrasion, even after a bit of beach football. Purchase: $60
Prana Sutra Pants
Motion Capture: Men's yoga pants are excellent for wearing to the beach. Comprised of spandex, hemp, and polyester, they give you a relaxed look and a broad crotch for moving, yet enough durability to do some bouldering or the all-important tree pose. Purchase: $79
Bonobos Summer Weight Chinos
Go Pro: A cotton twill that's been stripped down to a summery weight, you're better taking these chinos to the Tiki lounge than spending hours in the sun. Light and bright, they pair well with a sport coat for dog day business casual. Purchase: $98
Orvis Jamaica Linen Walking Pants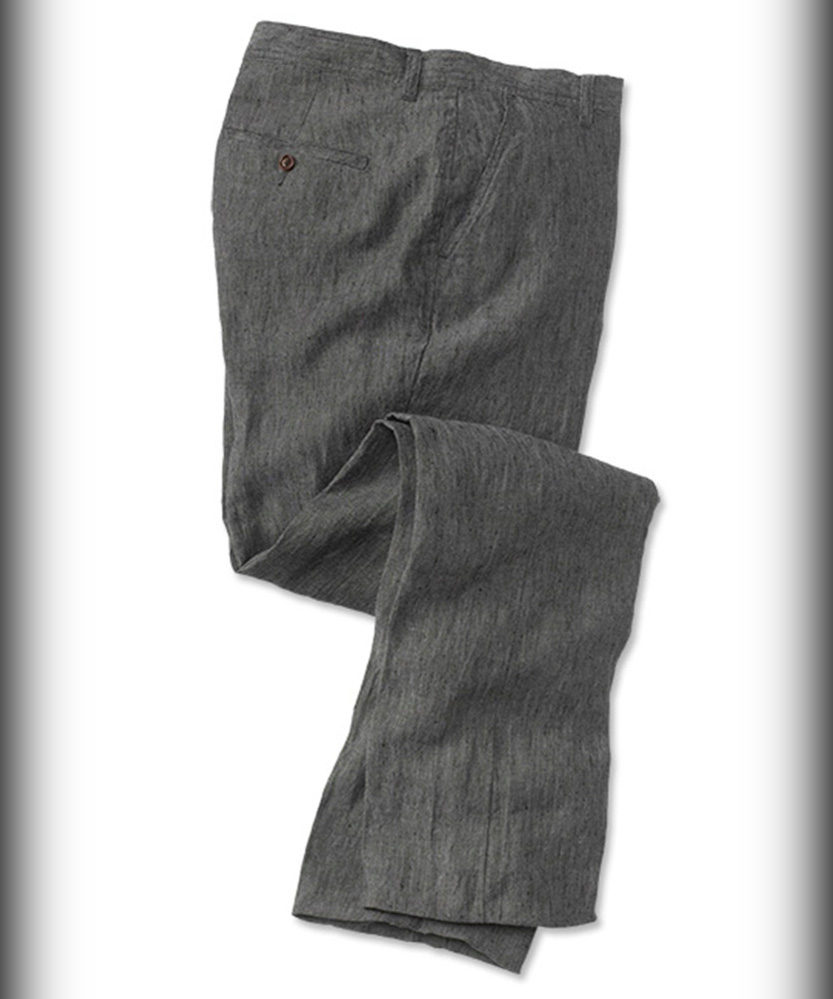 Soothing Slacks: Linen can be a little rough for long walks on the beach. These have been beaten into submission and built to be soft enough for sustained motion, and supple enough to go the distance. Purchase: $98
Maison Margiela 10 Casual Pants
Sitting Pretty: True, these are a little costly, but at least they're not terribly durable. If look and feel is more important to you than standing the test of time, these lightweight silk pants look and feel great, but aren't built for abuse. Purchase: $150